Fast and succesful implementation, that kept both the time schedule and the budget
Kino.dk made the shift to Yulsn Marketing Cloud in the spring of 2022. They experienced a very succesfull implementation, and a new solution that saved a lot of time with creating and sending their weekly newsletters.
Delivery within the agreed schedule and budget is supposed to be a given. However if you have ever been heading an IT implementation, you know that this is not the most normal case.
That is also why the Head of Content at the danish Movie Portal Kino.dk expressed his satisfaction about the implementation process in like this:
"We have lately implemented a new solution for our email marketing at kino.dk. The engagement and the ability to make things happen we have experienced from Torben at Yulsn is second to none.
Even though Yulsn Marketing Cloud is not the most wellknown platform, it deserves to grow further."
At Kino.dk you can buy tickets to movie theathers all over Denmark. You can see trailers and read news and articles about movies and series from Streaming services. You can participate in the debate, read reviews and in be inspired for future experiences.
The first goal with Yulsn Marketing Cloud was to make the set up of 3 weekly newsletters much faster and with smaller risk of errors - that was achievet already with the basic implementation
Each newsletter contains content from the website, but each movie or article needs to be hand picked.
A simple set-up with two JSON-feeds from the website and blocks in the mail template where single movies and articles can be inserted just by typing the ID from the website was the solution.
With this solution the newsletters are now much faster to set up.
The next step for Kino.dk is to develop and implement a completly new website. This also means that they know that the design on emails will change.
Therefore it was important for them to know, that all styling of the emails in Yulsn Marketing Cloud is done via stylesheets that can be shared across different templates and individual emails.
So when they are going to change the design, they can do this in a single place, and it will effect all templates and individual mails.
Knowing this they can continue to set up automated flows and mails in Yulsn Marketing Cloud without worying about having to edit a lot of individual emails when they launch the new website.
Here are examples of the current emails: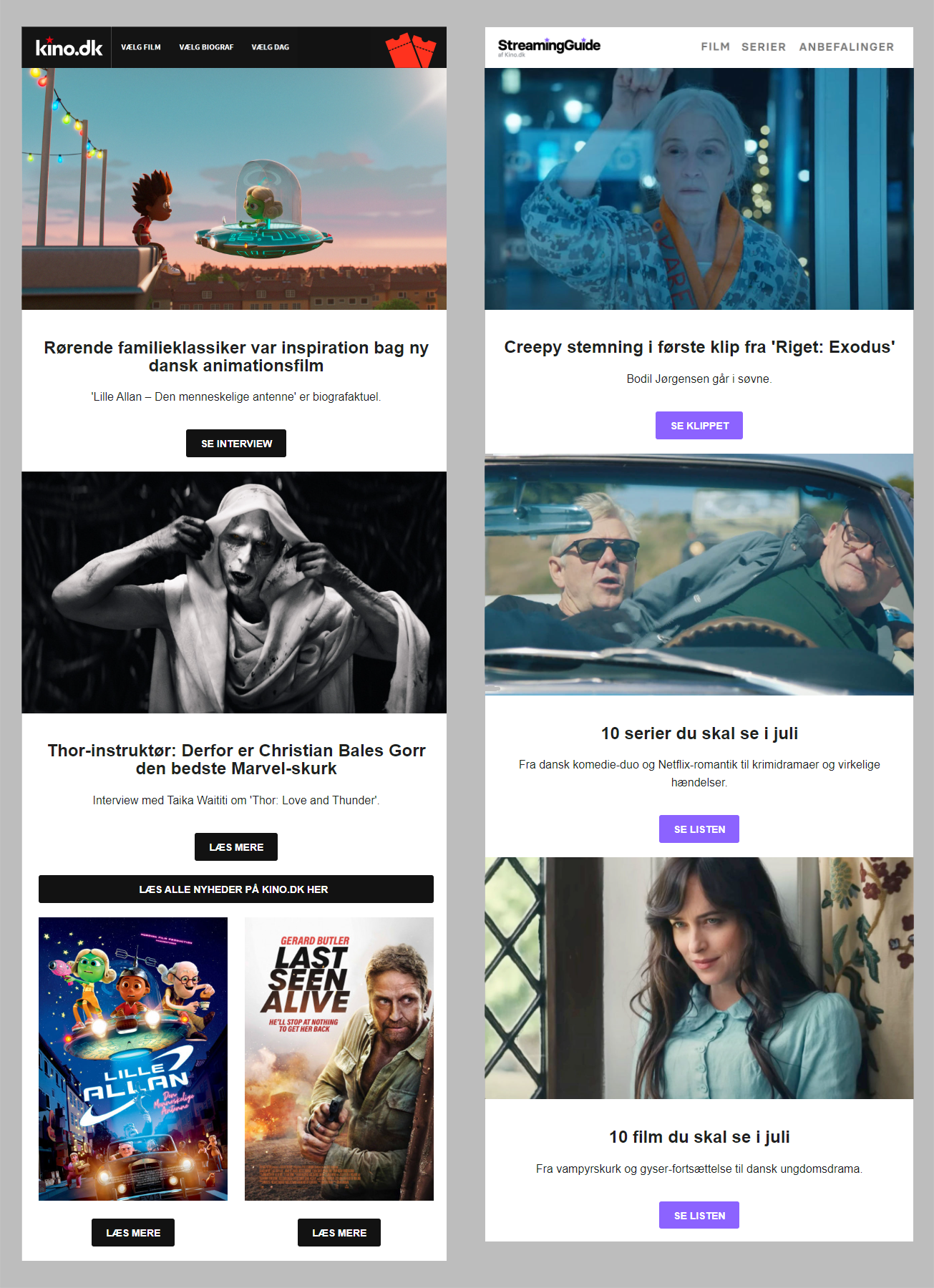 At Yulsn we are greatful for the cooperation and are looking forward to help automate and personalize even more in the future.
Book a demo of Yulsn Marketing Cloud
Let us give you a short presentation of the many possibilities with Yulsn Marketing Cloud - and how we can help you fulfill your ambitions within your budget.