Yulsn Marketing Cloud provides a fully connected solution for handling Loyalty Program, Customer Data Platform, Email Marketing and gamification for Small Danish Hotels with more than 65 hotels in Denmark.
Small Danish Hotels have been using Yulsn Marketing Cloud since the launch of their loyalty program in 2016
Small Danish Hotels is a chain of +65 individually owned hotels in Denmark. At the main office, there is only a staff of 12 people who is in charge of all administration, economy, booking, marketing, sales and loyalty program for the chain.
With 7 different Property Management Systems in use across the hotels in the chain, just setting up the automated handling of the loyalty program was a quite complicated task.
Furthermore marketing of more than 65 very different hotels via weekly newsletters as well as personalized and automated email flows with a marketing team of only two people, also requires a very efficient set-up.
Effecient work processes combined with standard and custom solutions in Yulsn Marketing Cloud, makes it possible for Small Danish Hotels to achieve extremely much with few ressources.
When the loyalty program was launched back in 2016, there were a few automated mail flows, mainly related to bookings and points in the loyalty program. Besides that they send out a standard weekly newsletter to all members.
Since then the team at Small Danish Hotels have worked consitently on improving the work processes and system set-up, so they now have a long list of automated flows as well as customized tools that makes it possible for them to produce and distribute highly targeted emails with even fewer ressources than when they started.
Reporting of all relevant KPIs related to the loyalty program, Email Marketing and Marketing Automation is consolidated in Yulsn Marketing Cloud, where the standard reports are supplemented with custom Power BI reports, directly in Yulsn Marketing Cloud.
Here is an example of an email using automated content: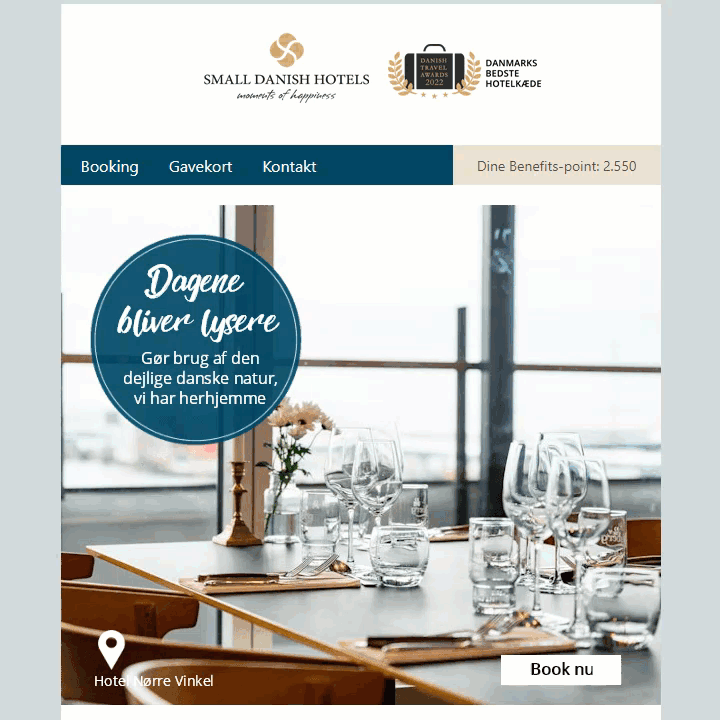 Small Danish Hotels is a large customer at Yulsn!
But even being a large customer, their total cost for the systems AND custom services from Yulsn is less than just the license fees of a larger Marketing Cloud solution.
At Yulsn all our clients are treated as VIP - and you are welcome too 😀